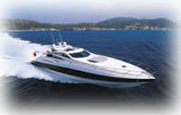 PI3000 Passenger Information Display System
for Ferries, Cruise Liners, Tour boats & Superyachts
PI3000 is a powerful and flexible multimedia PC based presentation system that provides passengers with voyage progress and general information over the vessels existing TV system.

In addition, product advertising and promotions can also be shown, so that a real return on investment can be attained.

Can be integrated into a shore based ferry information system for use in ferry terminals or even across the internet.

A cost effective way of keeping your customers informed.
| | | |
| --- | --- | --- |
| | Show vessel's real-time position on digital charts (GPS input) | |
| | Show a planned route | |
| | Show voyage progress and estimated arrival information | |
| | Run safety presentations | |
| | Show advertisements & product promotions | |
| | Make custom 'on-route' presentations by combining any text, video and graphics | |
| | Trigger presentations slides automaticaly depending on the vessels position | |
| | Show forward view camera | |
| | Helps meets your commitment to your hearing impaired customers | |

PI3000 utilises easy-to-use "slide show" technology where slides can be created which include active charts, video, text, navigation, video camera or image panels. All configurable in size and content.

PI3000 is designed to run on a standard PC interfaced with the vessel's exisiting TV systems or to a stand alone monitor such as a large plasma /lcd screen


Shows the vessel's planned route and current position overlaid on paper quality digital charts which automatically scroll as the vessel moves. As an alternative, atlas style relief contour maps can be displayed to give a 3D impression of the area. Text and graphics may be added, for example, to show port of call information.
A separate panel can show textual information including current speed, heading, "time to go to" destination, estimated time of arrival etc.

---


Display in key locations
Passengers cabins
Lounge areas
On general presentation TV's

Navigation and chart panel
Show current location and heading as a vessel icon
Planned route
Progress on route
ETA to next port
How fast the vessel is going
Slide 'Panel' utilities Text Display
Add any text. Provides full control of font type, size and colors

Image panel
Display most common image formats - JPEG, BMP, TIFF & PCX etc.

Video panel
Show AVI or MPEG videos for safety or other presentations
Live Video Camera Feed
Display live videos from ship camera's (note: this option requires additional HW and interfacing)

Slide order control
Geographical location (definable areas) for example:

Embarkation
Departure
En-route
Arrival
Disembarkation

Other features
Add third party products such as a Power point presentations or flash as part of slide show.

Ticker scrolling line text overlay display - for displaying urgent or temporary messages without changing the slide show/presentation.

Can be used with twin display graphic cards, one for the passenger display other for the control screen.

Information and Revenue Generation

Create custom presentations where sequences can be either time based or set for specific geographic regions, so they can be displayed, for example, on departure, en-route, arrival and disembarkation.

Main uses include:

Safety presentations
Information on destination
Announcements
Advertisements and 'Special Offers'
Weather information
Daily events
Information on excursions
Videos
Live views from the ships camera's
Ticker - for instant messages

PI3000 provides a high quailty way of both informing passengers and communicating specific information economically through existing TV systems.

PI3000 is used by many large cruise vessels including the QE II and the P&O Cruises flagship, the Oriana as well as

The play on position feature is used by many ferries to enable automatic display of safety and port information without any extra work load on the crew.

| | | |
| --- | --- | --- |
| | Easy to install & Use | |
| | Runs unattended | |
| | Reduces crew workload by answering common passenger questions | |
| | Helps generate revenue through advertising & promotions | |
| | Can be customised to each vessels exact requirements | |
| | Charting | |
| | Worldwide vector charts or Raster charts | |
| | Land & sea relief chart database (option) | |
| | Create and display routes | |
---
Technical
Interfaces to ships GPS (NMEA 0183)
Networkable to enable the navigation and TV drive computer to be in different locations

Recommended system specifications Windows 2000/XP
256MB RAM
10 GB disk space
Free Parallel port (or USB port)
Serial port for connection to GPS
CD ROM Drive
Accelerated graphics card (Nvidia GeForce 3 or similar)
Options

Eurodems land & sea relief chart rendering CD
Network option to separate main computer with that which drives the TV system
VGA to TV video base band converter (PAL)

---